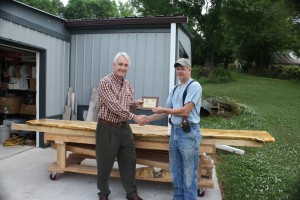 We would like to welcome Tim Manning and TSM Farms as a new Chamber member here in Smith County. Tim Manning has been in business in Smith County for many years. For many years but many folks may not know about the custom wood working he performs here locally. When I visited his shop this past week he was finishing a custom countertop that was going in a home in the Nashville area. The countertop is pictured in the photo of Tim accepting his Chamber membership plaque. If you go to the webpage www.tsmfarms.com you will find some very beautiful pieces of furniture, tabletops and countertops presented there in finished form. On the page about the Mill Tim said, "In 2010 we decided to buy a sawmill to take our Ag business to a new level by milling the trees that were passed their prime growth, unhealthy, storm damaged or in danger of doing damage to our property or buildings thus providing extraordinary reclaimed specialty rustic lumber. We chose a thin-kerf bandmill for greater efficiency and lumber yield, not wasting as much of our precious resources the Lord has blessed upon us. He also blessed me as the sawyer with the ability to "read" the logs for the best possible cuts to bring out nature's beauty….and the show has been spectacular. Our timber log stash has grown due to the unexpected storms through our area over the past couple of years. Because we regenerate our logs for the most beauty, we let them "lay around" longer to get more age and spalt marks to appear. "
They not only sell you lumber, but we can also fabricate to your specifications. They will glue, shape, sand, contour or finish the slab of your choice; allowing you or your contractor/ builder to install on your base or featured area as a bartop, bench, countertop, wall hanging etc. They will also help with the design if needed. Tim said, "Here at T.S.M. Farms, you're always welcome. We don't have retail storefront hours due to the many facets to operate our farm and sawmill. But we show lumber and do custom work by appointment and most of the time we have the flexibility to accommodate your schedule."
You can call to set your appointment by calling (931) 607-2156 Monday-Saturday 9 a.m. – 7 p.m. CST. TSM Farms is located in Gordonsville Tennessee.